Welcome to the visual companion to the fourth episode of The Render. The Render is a podcast hosted by Modsy's very own Alessandra Wood and Maddy Warner, and is all about the untold stories from the world of interior design.
In our fourth episode, Maddy and Alessandra are joined by special guest, Danielle Walish, the creative director of The Inside. Together we dive into the world of interior design trends and discuss what trends are, where they come from, and why they eventually die.
Listen Now
The Render is available on Apple Podcasts, Spotify, or wherever you listen to your podcasts!
Ever wondered where your favorite (or least favorite) trends got their start? Or what's happened to them since their fall from popularity? Then you'll want to tune in to our fourth episode of The Render, which is all about iconic interior design trends, where they come from, and why they die.
We'll be giving you the inside scoop on why avocado kitchens were big in the 70s, what was up with the granite countertop craze of the 90s, and our take on the edison bulb/mason jar everything trend of the 2000s.
We're excited to be joined by an awesome guest, Danielle Walish, the creative director of furniture company The Inside. She gives us her take on the all-time best and worst interior design trends and dishes her tips on how to spot the next big trend. Then we'll finish with a fun game of Love It or Leave It, trend edition.
A Brief History of Interior Design Trends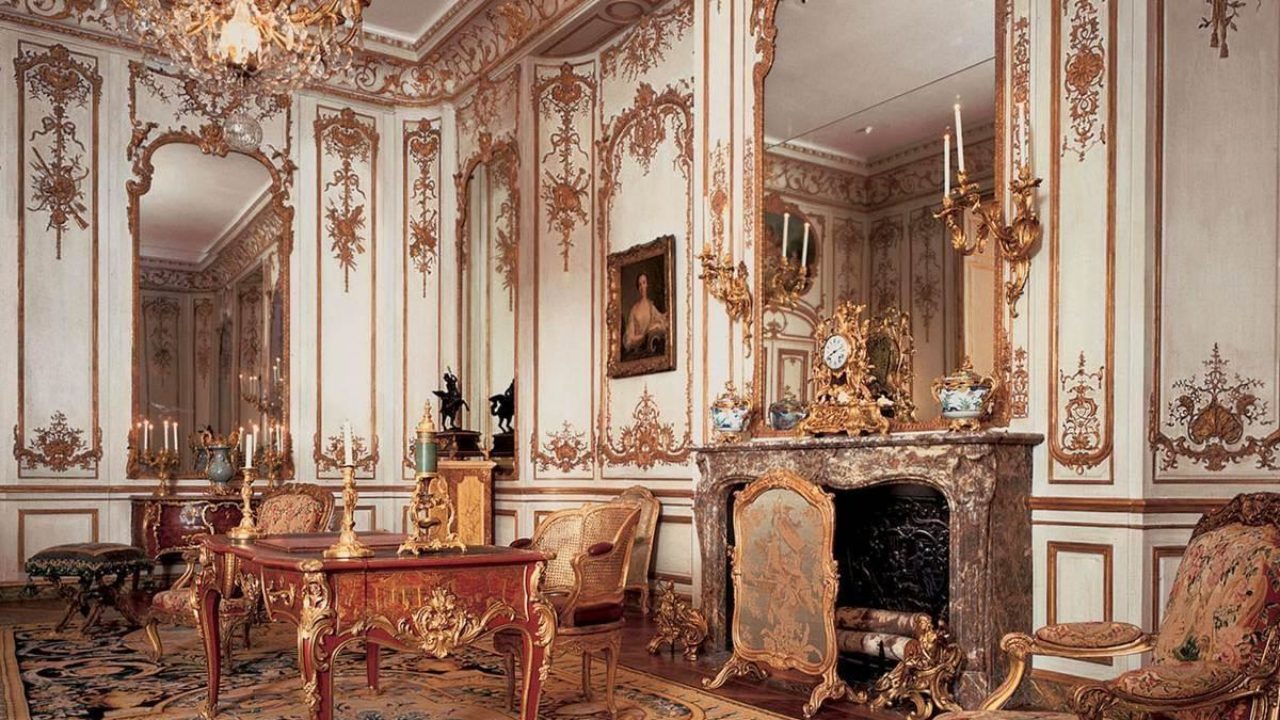 French Rococo Style
The 18th century is when interior design trends first emerged on a larger scale, with the birth of French Rococo style. Prior to that, interior design was much more focused on the architecture of a space, if it was considered at all—but with Rococo design emerged a celebration of lavish handmade designs that transcended a home's architecture.
Rococo style has all the opulence of the Baroque period before it, but it has a much more lighthearted and airy aesthetic. It relied on light pastels and whites, as well as gold, silver, and marble, to create an ornate look. And this wasn't just in the furniture and architecture, but showed up in places like silverware, paintings, and decor as well. (Not to mention in fashion.) The trend spread like wildfire throughout aristocratic circles in France and reached its height of popularity in the time of Marie Antoinette.
Top-Down vs. Grassroots Trends
There are two primary ways trends show up in culture, from fashion and interior design to music and art: top-down and grassroots. Top-down trends come, as they sound, from the top. In interior design, that's the elite tastemakers, professional designers, industry experts, and those who are manufacturing and designing the goods we're purchasing. Grassroots trends, on the other hand, come from the people and make their way up the trend ladder, becoming popular cultural moments.
The Devil Wears Prada Cerulean Belt
Who can forget this moment in The Devil Wears Prada, where Miranda Priestly berates Andy Sachs for her cerulean blue bargain bin sweater—a color which originated in high-end fashion houses. (The direct result of a top-down trend.)
View this post on Instagram
Influencer Trends
If you've ever lusted over a "War Is Over" print, you've dabbled in a grassroots trend. Today's grassroots trends tend to come more from influences. While they're certainly tastemakers of some sort, they're much more "regular" people than the industry elite who are creating trends, being more removed from the industry in which they're creating these trends.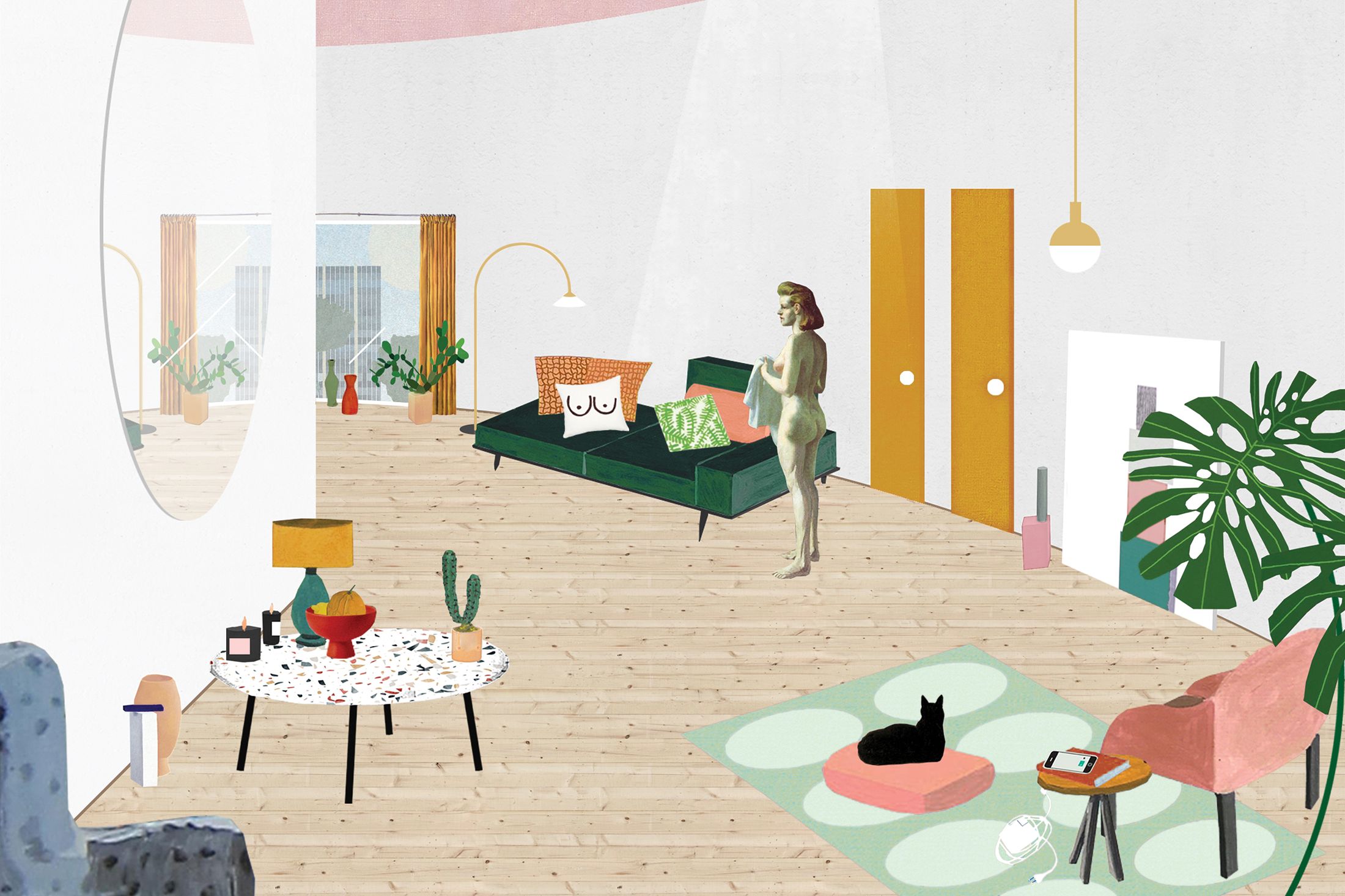 Millennial Style
A great example of a grassroots trend in interior design? The ubiquitous "Millennial Style." It grew more out of social media than Architectural Digest, and has now become the style you see in every trendy home goods store. Can't you just picture it?
"A basketlike lamp hangs overhead; other lamps, globes of brass and glass, glow nearby. Before you is a couch, neatly tufted and boxy, padded with an assortment of pillows in muted geometric designs. Circles of faded terra-cotta and pale yellow; mint-green and mustard confetti; white, with black half-circles and two little dots — aha. Those are boobs. You look down. Upon the terrazzo nougat of the coffee table, a glass tray trimmed in brass. It holds a succulent in a lumpy ceramic pot, a scented candle with a matte-pink label. A fiddle-leaf fig somewhere looms. Above a bookshelf (spines organized by color), a poster advises you to WORK HARD & BE NICE TO PEOPLE." –Will the millennial aesthetic ever end?
3 Iconic Interior Design Trends From History

Avocado Kitchen Trend
Remember the avocado green kitchen your grandmother had when you were growing up? Or perhaps hers was a rusty brown or a burnt orange. In the 1970s, avocado green kitchens became all the rage.
With the early 1970s came a newfound interest in the earth. We had just put a man on the moon a few years prior and gotten our first space-eye view of our humble earth. There became a growing interest in being outdoors, in being environmentally conscious, in learning about nature.
So, interior palettes began taking on earth tones—not just avocado greens, but burnt oranges, earthy yellows, and browns. And hey, if you can have an avocado green fridge, why not go for it? (Rumor has it that this trend may actually be coming back around.)
Whole Earth Catalog
Stainless Steel + Subway Tile
Today, it may feel like the only real choice for a kitchen is white cabinets, stainless steel appliances, and a white subway tile backsplash. (This is what we call a trend, my friend.)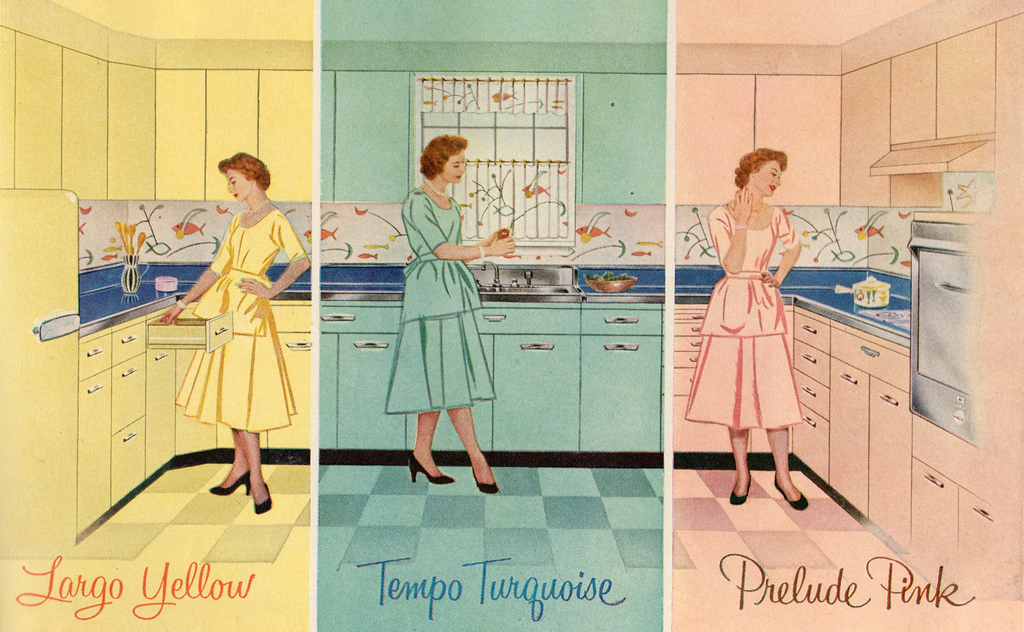 1950s Colorful Kitchens
Post WWII kitchens were also colorful, but with a more playful and youthful palette. Think: pinks, jade greens, sunshine yellows. It's like the sun finally came out after a long winter and people were ready to play.
Raymond Loewy Boomerang Design
Think the boomerang design trend will ever come back around?
I don't really care about what they say / I'mma come back like a boomerang
The Kitchen Debate
Colorful kitchens aren't all fun and games though—they're actually a symbol of American freedom. Case in point: During the Cold War, then-Vice President Nixon had a conversation with Russia's Khrushchev, where Nixon was arguing that the choices Americans have in the color of their appliances is a direct illustration of the freedoms we have in America—versus in Russia, where, at the time, everyone got the same government-issued refrigerator.
Granite Countertop Trend
In the late 90s and early 2000s, suddenly every kitchen redesign included granite countertops. For a while it was seen as a high-end luxury—but soon they were in nearly every modern kitchen in America. But how did this trend start?
A classic top-down trend, granite countertops came onto the scene in the mid-1980s and was seen as a highly luxurious material. It had to be imported, and then fabricated into a countertop—making it both super expensive and a sign of the elite. It began gracing the kitchen being featured in high-profile design magazines and became this aspirational ideal.
Then, in the 90s, the supply chain for granite suddenly improved, and turning granite into countertops became much less expensive. So, more and more sources began producing granite. With that, it became the material of choice for real estate developers building homes with a sense of luxury—and soon a granite countertop made its way onto nearly everyone's "must-have" list when house-hunting.
But, now that it's seen as an "accessible luxury," granite countertops have all but lost their mass appeal. And so the trend cycle moves ever forward.
View this post on Instagram
Edison Bulb and Mason Jar Everything Trend
Around the time that Pinterest came onto the scene, so did the advent of replacing a regular ol' lightbulb with Edison bulbs. America was in the throes of The Great Recession, and people were looking back to simpler times. So, on to the scene came the Edison bulb and mason jar everything craze. People used them for canning and pickling, yes. But also as DIY wedding reception centerpieces, vases, drinking glasses, soap dispensers—and the list goes on. Thus evolved the Pinterest-hipster aesthetic, which also involved an endless supply of bearded men.
There's a sense of nostalgia that comes with Edison bulbs and mason jars (perhaps less so the bearded men). It's a nod to the perceived cozy comforts of "the good old days." And, since the rapid rise of social media now allowed the mass sharing of images, soon everyone picked up on this trend which has now become known as the Brooklyn Aesthetic.
Though this trend never truly died, it did dissipate a bit. But in these uncertain times, we wouldn't be surprised if there was a second wave of this trend. At least now they're making energy-efficient Edison bulbs!
Hemline Theory
There's this idea called the Hemline Theory in fashion, which essentially says that you can tell how well the economy is doing by the length of hemlines in women's dresses and skirts. Think of it: in the 1920s, dresses and skirts were shorter than ever before. People were living fast and loose, having fun and taking risks. Then the stock market crashed, and all of a sudden hemlines got longer and more demure and conservative.
There's a sense of that showing up in interior design as well, where people gravitate toward more traditional styles in times of uncertainty. Traditional design is certainly on the rise right now.
View this post on Instagram
Mario Buatta, AKA "The Prince of Chintz"
Mario Buatta, a renowned designer in the 70s, 80s, and 90s, became known as "the Prince of Chintz" for his love of florals and English country style. His maximalist British aesthetic is experiencing somewhat of a comeback with the advent of "grandmillenial" style.
Granmillenial Style
Grand Millennial (or "granny chic") style leans traditional—with a tendency toward floral patterns and ruffles, and an appreciation for heritage and vintage influenced styles. It stands in stark contrast with mid-century modern or even the farmhouse aesthetic. It's cozy and personalized, and it's definitely a trend on the rise.
British Maximalism
This desire for cozy comforts is also why British maximalism is becoming the new interior design darling. The layering of patterns and materials brings a sense of comfort and creates really joyful interiors. The British impulse of decorating really seems to be about joy and comfort and the sense of celebrating something being quaint and cute.
2020 Trends: What's Next In the Interior Design Trends
Where does the Mid-Century Modern trend go from here?
All this doesn't mean the Mid-Century Modern trend is going away. In fact, MCM is almost at a point where it's been immortalized. It's a style that always feels fresh and relevant. But, the way it comes to life will probably be mid-century with a more collected, eclectic approach.
Eames House in Pacific Palisades
The Eames House in Pacific Palisades is a perfect example of this. It has a timeless mid-century style that continues to feel fresh, decades later.
The Eames' Tumbleweed
Danielle's Tips for Identifying New Trends
When it comes to trend forecasting, Danielle recommends staying inspired and being in touch with your own sense of what feels fresh. She says that, when you look at the same type of imagery and the same type of interiors over and over again, it becomes difficult to know when something feels fresh and truly relevant. So, you have to get out of the Instagram algorithm—because that will only continue to show us the same type of thing over and over again.
Danielle says it's also important to have an interdisciplinary approach to thinking about what's relevant and what's a growing trend. So, look at fashion, music, food, even the auto industry. (They're always on the cutting edge of trendy colors!) If you're in a big city, walk the streets and start noticing the colors you're seeing in clothes, signage and cars. But really, what it comes down to is staying curious.
The "Trend" of Fast Furniture
The fashion world is moving away from fast fashion and toward a more slow fashion approach. And that idea of sustainability and made-to-order products versus having a warehouse of inventory is a direction that the furniture industry is moving as well.
3D technology is allowing companies to disrupt their supply chains and show their products in different colors and fabrics without actually producing those products. With that, some companies are opting to not even produce a product until an order has been placed. Danielle thinks that that sort of made-on-demand supply chain is going to start to get adopted by a lot of bigger retailers.
How to Balance Trends and Personal Style?
Trends are fun. But most of us don't have the luxury of switching up our home's design with every new trend. So, how do you balance trends and personal style? Danielle says, if a specific trend is bringing you joy, why not dabble in it? Make sure your big furniture pieces are reflective of your overall style—but then incorporate trendy pieces in your accent decor and even light fixtures, which can really change the overall vibe of a room.
And if it's a trendy color you love? Don't be afraid to paint your walls! This is a great way to infuse a trend into your space.
With that, don't be afraid to let your style evolve over time. You don't have to love the same things today that you did when you were 20. We're all ever-evolving and growing and changing—and that means your preferred style, too!
Love It or Leave It: Trend Edition
At the end of the episode, Maddy took Danielle and Alessandra through some iconic trends and asked if they loved the trend or would prefer never to see it again. You'll have to listen to the episode to hear what they said—but here's the trends we touched on.

Sponge Painted Walls
Forget rollers! In the 90s, we painted our walls with sponges. It created a textured, layered look that our 90s selves couldn't get enough of.

Chevron
For years, we saw Chevron patterns on everything, from rugs and mugs to notebooks, dresses, and about any other surface you could add a pattern to. Some called it a trend, others argued it's a timeless pattern.

Terrazzo
Terrazzo is a type of tile that consists of chips of marble, quartz, granite, or glass, held together by a binding. It creates a lovely mosaic vibe. But, more recently, terrazzo patterns have been, like chevron, co-opted by the masses and applied to the likes of bedding, lamps, and art prints.
View this post on Instagram
Shiplap
Joanna Gaines may have made us all love shiplap in the last several years, but it's a wall treatment that's long been used in coastal homes to give a space that seaside vibe.
View this post on Instagram
Glass Block Walls
Need a wall but want to still let natural light in? Enter Glass Block walls. They had a major moment in the 80s, and some people are still installing them today for their light-filtering-but-not-translucent properties.
View this post on Instagram
Houseplants
Sure, houseplants have always been around, so can you really call this at trend? We'd argue, yes. In the last decade, bloggers and influencers have started filling their homes with fiddle leaf figs and succulents galore, and suddenly houseplants went from being a dusty dinosaur that was always in the corner of your grandma's living room to a major decorative choice.
So, what are your thoughts with these trends? Love them or leave them?
Thanks again to Danielle for joining us!
Danielle Walish is the Creative Director and Co-Founder of The Inside, a digitally native home furnishings brand that's making furniture fun, with access to more design for more value. She holds her MA in design history from Parsons, The New School for Design and has taught courses on the history of Main Street, rebranding post-war Italy, and the history of objects. She is an interior designer by trade, and prior to The Inside, Danielle co-owned an interior designer studio whose work has been published in Architectural Digest, Vogue, Refinery29, and Southern Living. Danielle truly believes in the power of design as an agent for change and the joy of decorating. Her personal mission is to help leave the world more beautiful than she found it.
https://blog.modsy.com/wp-content/uploads/2020/05/Podcast_cover_final.png
2000
2000
Modsy
https://blog.modsy.com/wp-content/uploads/2020/08/Modsy_Logo_Lockup_Black-300x54.png
Modsy
2020-07-17 22:06:53
2021-05-10 22:53:28
(Episode 4) The Render Visual Companion: Where Do Interior Design Trends Come From and Why Do They Die?